Louisville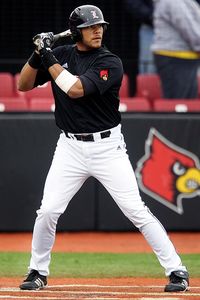 Louisville
is 20-9 and led by Chris Dominguez at the plate (2008 Big East Co-Player of the Year along with many other awards). He finished with 21 homeruns last year and leads his team with 9 so far this year. The Louisville baseball program made noise in 2007 when they made it to the College World Series (first in school history), and they continued that success into 2008 (41-21) as they took home the Big East Championship. They have really built up a successful program over the last few years, and they are definitely a tough mid-week match-up. As a team, they hit .302 and are a force to be reckoned with on the basepaths as they have stolen 54 bases on the year. With a combined ERA of 4.40, the Louisville pitching staff is very solid overall. However, 6'7" LHP Keith Landers is scheduled to get the ball against the Hoosiers, and he currently sports a 7.71 ERA and a .300 opponents batting average in only 2.1 innings of work on the year (he does have 4 strikeouts in those 2.1 innings, though). If you want to know more about Landers, check
here
for his draft report and a video from last year.
Valparaiso
Valparaiso
is currently 10-14, and as a team they are much less impressive at the plate than Louisville, batting only .270 on the season. Red-shirt senior RHP John Snelten will be on the mound for Valpo. He has started 2 games this year and currently sports a 7.43 ERA and an opponents batting average of .315. In 13.1 innings, he has given up 18 hits (7 for extra bases), so look for the Hoosier bats to really explode in this game. However, it will be important for IU to not overlook Valpo's offense altogether as they did put up 26 runs over the course of a 3-game series with Butler in Indianapolis earlier this year. These 2 games should be a good test for the Hoosier pitchers to step up and prove to the fans that we should not be concerned about the IU bullpen moving forward.

Dickerson Named Big Ten Player of the Week
Congrats to Alex Dickerson for being named co-Big Ten Player of the Week. I don't think Hoosier fans should be at all surprised to see this, and we all hope it is the first of many awards for the talented freshman. Read more in the IU release
here
.